Pathfinders – for the young and young at heart!
The Pathfinde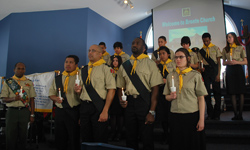 r Club is a worldwide program organized and directed by the Youth Department of the General Conference of the Seventh-day Adventist Church. Pathfinders offers a wide range of learning, life and outdoor experiences for young people 10 to 15 years of age (and older) and is operated by the international Seventh-day Adventist church under the direction and control of the local conference youth director.There are Pathfinders all over the world and Bronte is proud to take part.
What is 'Pathfinders' all about?
'Service to God and to humanity' in a nutshell is the dual purpose of Pathfindering. To many who know about Pathfinders, the mere mention of the word conjures up images of marching, camping, curious hobbies and encounters with God's creation in Nature. It is a church-centred, spiritual-recreational activity with an appeal for youth who are at the fast-growing physical stage of development.
Currently there are some 2,000,000 Pathfinders around the world. Any youth between the ages 10 to 15 who promises to abide by the Pathfinder Pledge and Law is accepted as a Pathfinder.
Pathfindering is built on an age-specific curriculum of six levels: Friend, Companion, Explorer, Ranger, Voyager, and Guide. In addition, there are approximately 250 specialized skill development topics involving arts and crafts, aquatics, nature, household arts, recreation, spiritual development, health and vocational training. These "honours" as they are called, often serve as a launching pad for lifetime careers and hobbies.
To learn more about Pathfindering at Bronte and how you child (or yourself!) might get involved, email Eduardo Cuevas. Or phone him at: 289-837-1848
---
Important Links…
---
Download the Pathfinder club membership application here.

For God hath not given us the spirit of fear;
but of power, and of love, and of a sound mind. 2 Timothy 1:7